Connection between food and climate change goes almost unheard at COP26
Idec defended at the Glasgow conference the need for a transition of food systems to save the climate, but agreements made don't consider the theme
22 de November de 2021
(ATUALIZADO_EM 10 de December de 2021)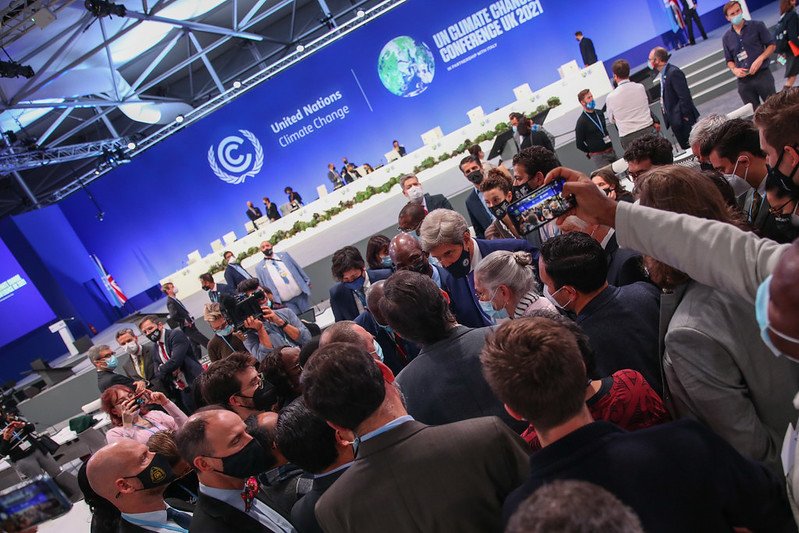 Photo: UNFCCC
Essential to saving the climate, the transition to healthier and more sustainable ways of producing and consuming food were not mentioned on the commitments made by world leaders present in Glasgow, Scotland, at the UN Conference on Climate Change, COP26.
The Brazilian Institute for Consumer Defense (Idec) was present at the global forum and was one of the few organizations, alongside its international civil society partners, to raise the banner for food systems that promote the health of people and the planet, fighting, at the same time, hunger, obesity and climate change.
Organized by the Centre for Climate Change and Planetary Health of the London School of Hygiene and Tropical Medicine (LSHTM), in partnership with the Health and Climate Network and the World Obesity Federation, the event "Global Food 2050: How can we deliver the climate resilient, sustainable and healthy diets of the future?" raised fundamental points about the connection between food production, healthy eating and rising global temperatures.
Ana Paula Bortoletto, Nutritionist at Idec's Healthy and Sustainable Food Program, panelist at the event, highlighted that current food consumption patterns "are supported by a dominant food system model, based on monocultures and extensive livestock, with high use of pesticides". According to her, this makes Latin America responsible for 9.5% of global emissions, increased pollution of natural resources and reduced biodiversity.
Faced with a growing scenario of dismantling of food, nutrition and environmental security policies, and the weakening of democratic spaces for social participation in Brazil, Bortoletto warned: "governance and transparency mechanisms must guarantee the non-participation and interference of the private business sector in the formulation of public policies on food, health and climate change. We want to connect and build bridges between experts in food and nutrition and climate change. We don't have time to waste on false technological solutions or greenwashingpractices."
Alan Dangour, also a panelist at the event, from the LSHTM, recalled that the UN Food Systems Summit, held in September this year, did not turn its attention to climate change. "And now, COP26 hardly talks about health and doesn't even mention food. How does climate impact food availability? What are we going to eat in 2050? This should certainly be at the center of the discussions".
Access here to watch the full event, starting from 4 minutes and 15 seconds.
It wasn't this time
On Saturday, the 13th, more than 190 nations signed a COP26 decision package, containing common actions and frameworks to mitigate climate change. The promises include measures to discourage fossil fuels, reduce deforestation, encourage green technologies, climate finance and sustainable transport and agriculture.
However, according to the Climate Observatory, a coalition of civil society organizations of which Idec is part, the COP has again postponed saving the climate. A detailed analysis of this package of agreements shows that the two-week event failed to deliver the ambition needed to reduce greenhouse gas emissions in line with the targets set in the Paris Agreement to limit global warming to 1.5°C this century.
"Even worse, COP26 was unable to connect the models of food production with negative impacts on the health of people and the planet, and how this ends up directly contributing to the worsening of climate change", says Janine Coutinho, coordinator of the Food Program Healthy and Sustainable Idec. "We cannot find in the promises of world leaders any approach regarding food systems, food and their health and environmental impacts."
Idec continues to focus on climate and health solutions that aim to change Food Systems in Latin America. Efforts to keep global warming below 1.5°C must go hand in hand with ensuring fundamental benefits for people's nutrition and public health.
Check here a detailed analysis of the COP26 decision package, in Portuguese, made by the Climate Observatory.